The 4th of July is a fun day of festivities for most Americans. Our pets, on the other hand, don't seem to enjoy it as much. It can be a loud, stressful and scary day for them even if they do get slipped a couple cheeseburgers under the table. In order to keep your pets safe and comfortable this holiday we compiled a list of tips to help out. 
Make sure they have proper ID
July 5th is the busiest day of the year for animal shelters nationwide, with 30% of all lost pet incidents occurring the evening of 4th of July. So first and foremost take every precaution to make sure your dog has proper ID in case they manage to get away. Save yourself the stress of having to worry about a lost pet and prepare ahead of time by updating their ID tag, checking their collar is secure or having them micro-chipped which will help increase the chance of them being found and returned. It's also smart to double check you have current photos of your pet in case you need to put up signs, but if you're anything like me 99.9% of your photo feed is of your dog.  
Exercise your pets before the party starts
By taking them for a walk or run earlier in the day allows them to get some energy out and can help keep them calm before the fireworks start. Also, make sure they get regular bathroom breaks, when pets are scared accidents can happen and no one wants to deal with that on a holiday (or ever really). 
Keep them inside
Keep your pet in a quiet, escape proof room inside your house. You might normally love bringing your pet everywhere you go but with large crowds and loud noises it can be a stressful trip. If you can, stay inside with them as much as you can as your presence will help to calm them. 
Check in as often as possible
If you do leave to watch fireworks, use your D-Link Wi-Fi Camera to check in and make sure they're safe and sound. With two-way audio you can even reassure them that everything is okay even when you're not there.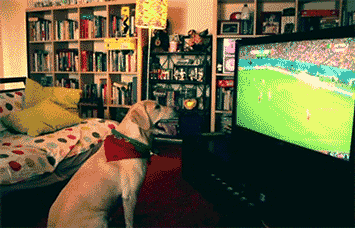 Block out the noise
Turn on the TV or radio (preferably to your pets favorite channel or artist)  to create white noise which will help drown out all the commotion happening outside. 
Build a safe area
Create a 'safe house' like area for your pet to hide and rest. Using their bed with a few extra blankets gives them a place to feel comfortable, if you can, add a covering like a crate or placing it under a desk or bed. And be sure they have plenty of water and that the area is kept cool if it's a hot day.
Keep them on a leash
If your pet is outside or near fireworks, loud noises or big crowds their instinct will most likely to be to run away so make sure they have a leash or harness on. Even if they are in a yard or secured area a leash or long lead will make sure they stay in the area.
 Use these tips to help guarantee your 4th of July is safe, fun and worry free.