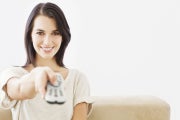 "Watching TV" no longer means lounging on the couch. Today you can get entertainment — movies, music, television, and more — no matter where you are: sitting at your computer, standing in the kitchen with a mobile device in hand, or, yes, sitting in front of your TV.
It isn't a complicated setup. With a few simple pieces of equipment, you can use your computer network as a next-generation entertainment hub.
1. Install a network router
Your network is the centerpiece of this operation, and if you're interested in high definition media, then speed, range, and bandwidth are crucial. D-Link's HD Media Router 3000 (DIR-857) is a dual-band 802.11n router that provides all the bandwidth you need for today's HD movies and television programming. It comes with HD Fuel Technology to prioritize bandwidth for maximum performance of not only your favorite digital entertainment devices, but all your devices, all at one. With its built-in DLNA-certified Media Server, this router allows you to stream media content directly to computers, game consoles and media players like the Boxee Box by D-Link.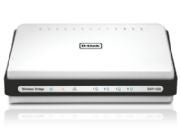 2. Extend network coverage if necessary
If you have multiple floors, extend the range of your network with a bridge: you can keep it wireless with the D-Link® DAP-1522, which enhances your wireless signal to reach into the remote rooms of the house (or outside). Or opt for PowerLine technology that uses the electrical lines running through your walls to zip media to other parts of the house. Just plug the adapters into any wall socket and your network is quickly up and running.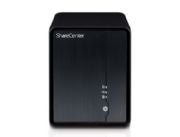 3. Allocate media storage
With your network configured, it's time to look at your media itself. You'll be able to access media files stored on any computer, but a better solution is to use a Network Attached Storage (NAS) device to centrally store all your files in one place. By offloading the storage from your PC, you can prevent large media files from filling up your computer's hard drive and also achieve better protection for those files by placing them on a dedicated storage device. D-Link's ShareCenter 2-Bay NAS attaches directly to your router, making it convenient and accessible by multiple devices in the house.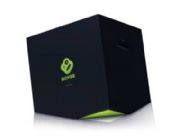 4. Connect the TV
Finally, to provide entertainment for the whole family, a simple media player, like the Boxee Box by D-Link, in your entertainment cabinet can bring content from your network and the Internet straight to your TV. Just plug the Boxee Box into your HDTV and configure its wireless access. Soon, you'll be zipping files from your computers or NAS device straight to the living room. Alternately, you can transfer media to the Boxee Box by plugging in an SD card from a digital camera or by using a USB portable storage device. As a bonus, you'll be able to access programming streamed from the web, including movies from Netflix and VUDU.
A home entertainment network doesn't just send movies and music from your computer to your television, it gives you access to media from any device, anywhere in the house.